News
July 21, 2017
Ian McDonald Reunites With Foreigner At Jones Beach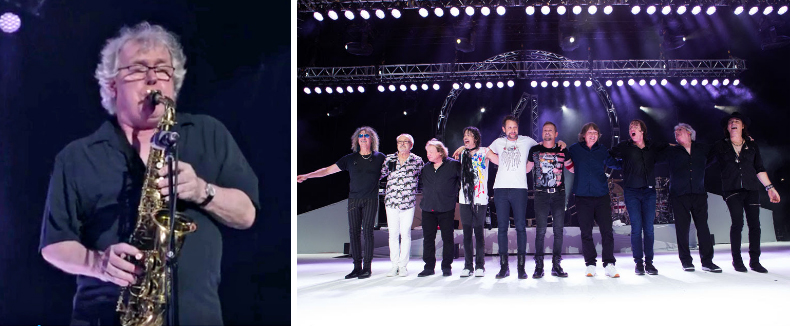 NEW YORK (July 21, 2017) - Last night, one of rock's most desired reunions made history when IAN McDONALD of HONEY WEST joined fellow original Foreigner members Lou Gramm and Al Greenwood for an impromptu appearance with Foreigner on stage - for the first time since 1980 - at the Northwell Health Jones Beach Theatre for a memorable rendition of some of the band's biggest hits as part of its 40th anniversary tour.
McDonald, who co-wrote the Foreigner anthem "Long, Long Way From Home," is currently enjoying renewed acclaim in his own right, 38 years since leaving the group, with his new band, Honey West, and their debut album, Bad Old World. "Long, Long Way From Home" kicked off the reunion portion of last night's show, featuring McDonald recreating his indelible sax solo.
Says Mick Jones, "It was great to have Lou, Al and Ian join us on stage last night, and certainly brought back some special memories. All the original guys are out there playing live shows and working on studio projects. A performance by the entire original band for a Rock & Roll Hall of Fame induction next year would be a great way to cap off our 40th Anniversary celebrations."
Since the 1977 release of their first hit "Feels Like the First Time" and their self-titled debut album on Atlantic Records, FOREIGNER has been universally hailed as one of the world's most popular rock acts with 10 multi-platinum albums, 16 Top 30 hits, and worldwide album sales exceeding 75 million.
McDonald was on board for the first three Foreigner albums, Foreigner (1977), Double Vision (1978) and Head Games (1979), as a multi-instrumentalist proficient on reeds, winds, keyboards, and guitar, his primary instrument on stage. Combined with his significant contribution to the landmark King Crimson album, In the Court of the Crimson King, also as a founding member, McDonald has figured prominently on four of the biggest-selling albums of the 10-year period from 1969 through 1979, encompassing two completely different rock genres (pop rock and progressive rock).
In HONEY WEST, McDonald co-wrote, produced and played several instruments on their acclaimed new debut album, Bad Old World (Readout Records), which impacted at Triple A radio this week, and which McDonald says is "some of the best work I've done in ages, and maybe ever."
"Dementia," the "infectious" (ABC News Radio) self-deprecating 1st single drawing comparisons to revered British pub rockers Rockpile, is the focus track with commercial Triple A stations, while the full album, called "truly perfect" by Short & Sweet LA & NYC, heads to Non-Comm radio.
Billboard.com, in its exclusive premiere of the groundbreaking lyric video for "Dementia," said, "It merits some attention when Ian McDonald gets excited about something."
Bad Old World also has earned notice from Parade.com, Huffington Post, Modern Drummer, M Music & Musicians, Milwaukee Journal-Sentinel, Digital First Media, Premiere Radio Networks, and Fireworks Magazine (UK), among others. Goldmine is scheduled to publish a spotlight feature/album review package, as well.
Vintage Rock called Bad Old World "a 12-song gem of wry lyrics, live sounding rollicking, and right-in-the-pocket production" and "a lively record from artists who sure know how to bring fun and smarts to rock and roll." Sea of Tranquility, in its four-star review, declared the album "unashamedly good fun [and] classy."
Honey West's next live appearance is Tuesday, July 25 at Rockwood Music Hall 2 in New York City. More dates to come!
PHOTO CAPTIONS:
LEFT: Ian McDonald recreates his indelible sax solo on the Foreigner anthem "Long, Long Way From Home," which he co-wrote, on stage with his old bandmates last night at Jones Beach. Credit: Karsten Staiger (MeinFotoland)
RIGHT: (L-R): Bruce Watson, Mick Jones, Lou Gramm, Kelly Hansen, Michael Bluestein, Chris Frazier, Al Greenwood, Jeff Pilson, Ian McDonald, Tom Gimbel, on stage at Jones Beach. Karsten Staiger (MeinFotoland)